| | | | |
| --- | --- | --- | --- |
| | | Welcome to the talk page of the 4400 main page! Feel free to ask a question or leave a comment! | |
Help Wanted
Edit
This site needs major help. Any users who create an account here, please reccomend this site to any other fan you may know. Thank you!--Posted by Sonny at 21:37, September 19, 2009 (UTC)
Inspiration for The 4400?
Edit
Something seemed familiar about the font of the title card for The 4400. Take a look at this picture of the hood of the Ford 4400 tractor on my dad's farm. Does anyone think that this tractor was an inspiration, either conscious or unconscious, for the name of the show, or at least the font? By the way, the Ford 4400 was a common sight from the late 60's to the 80's and later, not only on the farm, but on city streets and construction sites.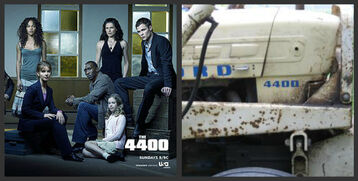 -Joe
Ad blocker interference detected!
Wikia is a free-to-use site that makes money from advertising. We have a modified experience for viewers using ad blockers

Wikia is not accessible if you've made further modifications. Remove the custom ad blocker rule(s) and the page will load as expected.