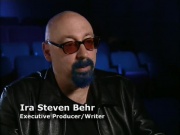 Ira Steven Behr is a writer and executive producer of The 4400. Ira has worked on several television shows, including:
Dark Angel (2000, consulting producer)
Bob Patterson (2001, writer and executive producer)
The Twilight Zone (2002, writer and executive producer)
The 4400 (2004, writer and executive producer)
Dr. Vegas (2004 writer and consulting producer)
After The 4400 was cancelled in mid-December 2007, 4400 writer Amy Berg posted this final message on the subject from Mr. Behr on December 20, 2007:
"'it's a drag, isn't it.' paul mccartney's response to john lennon's murder. 'what an a$$hole' i remember thinking when i first saw the newsclip of mccartney's casual reaction to such an overwhelming tragedy. but i was wrong. lennon's death -- it's stunning gut wrenching impact -- was so immediate, so fraught, so painful, that no adequate response was possible, no response was even necessary; the event spoke for itself. so what does the death of a musical/cultural icon have to do with the cancellation of a tv series? fair question. i'll try to explain. what i'll miss most about the 4400 aren't the actors, though i have only warm feelings toward them all, or even my co-writers, including my partner in crime craig sweeny, because the way the business works we can always find ourselves toiling away together on some other show. no, what i'm going to miss most about the 4400 are the characters because the characters have ceased to exist. their stories are over. they're done, finished, gone. which is why to me it feels like tom baldwin is dead, diana skouris is dead, jordan collier is dead, shawn farrell is dead, kyle baldwin is dead. marco dead. burkhoff dead. tess dead. even garrity dead. and on and on and on. it's a drag isn't it?" - ira steven behr, showrunner.
In late December 2010, Mr. Behr was appointed head writer, show runner, and executive producer for Syfy Channel's Alphas for which the pilot episode had already been written. Mr. Behr oversaw the remaining 10 episodes of the 11 episode first season order.
He made an appearance in the episode The Great Leap Forward as a person in the crowd.
Ad blocker interference detected!
Wikia is a free-to-use site that makes money from advertising. We have a modified experience for viewers using ad blockers

Wikia is not accessible if you've made further modifications. Remove the custom ad blocker rule(s) and the page will load as expected.