Character History
Edit
Audrey has been logging her thoughts about promicin on her blog, reminiscing about the life she has lived and how her life has changed since taking the promicin injection. making NTAC very concerned, as her posts may convince others to take the injection.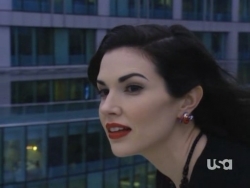 While Audrey is astral projecting one day, the young, projected Audrey suddenly begins to feel a sense of vertigo. The older Audrey has obviously died and NTAC agents are investigating the scene. They find proof that she is in fact the blogger and that she suffers from rheumatoid arthritis and takes morphine injections. While they are trying to determine if it is accidental death or suicide, the young, projected Audrey begins protesting that it was a murder. All of NTAC's radio equipment briefly emits static.
Ad blocker interference detected!
Wikia is a free-to-use site that makes money from advertising. We have a modified experience for viewers using ad blockers

Wikia is not accessible if you've made further modifications. Remove the custom ad blocker rule(s) and the page will load as expected.